Review: Darktown by Thomas Mullen
Darktown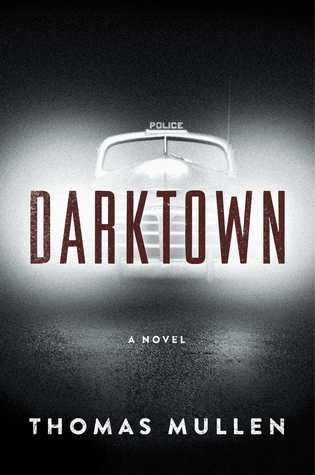 Responding from pressure on high, the Atlanta police department is forced to hire its first black officers in 1948. The newly minted policemen are met with deep hostility by their white peers and their authority is limited: They can't arrest white suspects; they can't drive a squad car; they can't even use the police headquarters and must instead operate out of the basement of a gym.
When a black woman who was last seen in a car driven by a white man turns up fatally beaten, no one seems to care except for Boggs and Smith, two black cops from vastly different backgrounds. Pressured from all sides, they will risk their jobs, the trust the community has put in them, and even their own safety to investigate her death. Their efforts bring them up against an old-school cop, Dunlow, who has long run the neighborhood like his own, and Dunlow's young partner, Rakestraw, a young progressive who may or may not be willing to make allies across color lines.
This book was sent to me from Simon & Schuster Canada or an honest review.
Darktown is set in 1948 Atlanta, Georgia, at a time when racial tension is very high. The Atlanta police department are forced to hire eight black police officers, and this is not a decision that goes over well with most of the white officers. Two of the men hired are war veterans Lucius Boggs, son of a preacher and Tommy Smith. This book is mostly entered around their story and the murder of a young black woman as well as the rampant police corruption in the south.
I definitely feel this book was very well written, fast paced, and full of action scenes, mostly violent and racially motivated, making those scenes difficult to read. Even though I understand it was a sign of the times, I found the abundant use of the "N" word disturbing. I'm not sure if it was necessary for it to show up on practically every page.
The author made the story come to life for me. I felt like I was there with the characters and it was a scary place to be. I enjoyed the characters of Lucius, Tommy and Rake. However there is one character named Dunlow, Who I absolutely loathed. One of the most despicable characters I've ever come across. I do have a favourite scene involving Dunlow though. It comes near the end of the book, so I can't say much about it, but it was something I was waiting for.
I did enjoy this look into a very dark side of American history. Thomas Mullen did an excellent job of capturing the atmosphere of the times. As well as the historical aspect of the book, it's also a great crime novel. This guy can write. Highly recommended.
This book is available now.
Cover and synopsis form goodreads.