April 2015 Wrap Up
These are the books I read in April.
One Last Scream
Amelia Farady suffers from blackouts, and she has the feeling she is personally involved in a series of deaths. Eleven years have passed since 12 women vanished without a trace. Now, as new murders occur, Amelia continues to suffer from blackouts, leaving her to wonder if shes a cold-blooded killer or a pawn in a deadly game.
Summoned by Military Intelligence to Washington, D.C., Reacher is sent undercover. The assignment that awaits him: The army is meeting with its Capitol Hill paymasters for classified talks on a new, state-of-the-art sniper rifle for U.S. forces. But vital details about the weapon are leaking—straight from the Capitol and probably into the hands of unidentified foreign arms dealers. The prospect of any and every terrorist, mercenary, or dictator's militia getting their hands on the latest superior firepower is unthinkable. That's where Reacher comes in. His task: infiltrate the top-secret proceedings and smoke out the mole. His target: a quartet of high-powered Army political liaison officers—all of them fast-track women on their way to the top.

According to his bosses, it's a zero-danger mission. No need to draw a gun . . . just chat over drinks. But Reacher knows that things are rarely what they seem. And he's learned the hard way never to underestimate an opponent. Or four. Lessons that will come in handy when he starts digging for the truth—and gets his hands a lot dirtier than he expected.
Portrait of a mystery

Dylan Scott vowed never to return to the dreary town of Dawson's Clough. But one visit from a beautiful ex-lover and he's back in Lancashire, investigating a possible murder. The police think Prue Murphy died during a burglary gone wrong, but her sister isn't so sure—and neither is Dylan. After all, the killer overlooked the only valuable thing in Prue's flat.

So who could have wanted the quirky young woman dead, and why? Dylan's search for answers takes him to France, where he discovers Prue's family didn't know her as well as they thought they did. And the more he digs, the more secrets he unearths—secrets someone would kill to keep buried….
The Fifth Gospel
In the tradition of masterworks like Umberto Eco's
The Name of the Rose
and Donna Tartt's
The Secret History
, Ian Caldwell, coauthor of the international sensation
The Rule of Four
, returns with an exhilarating intellectual thriller set entirely within Vatican walls.
In 2004, as Pope John Paul's reign enters its twilight, a mysterious exhibit is under construction at the Vatican Museums. A week before it is scheduled to open, its curator is murdered at a clandestine meeting on the outskirts of Rome. The same night, a violent break-in rocks the home of the curator's research partner, Father Alex Andreou, a married Greek Catholic priest who lives inside the Vatican with his five-year-old son.
When the papal police fail to identify a suspect in the robbery, Father Alex, desperate to keep his family safe, undertakes his own investigation into both crimes. His only hope of finding the killer is to reconstruct the dead curator's final secret: what the four Christian gospels—and a little-known, true-to-life fifth gospel named the Diatessaron—reveal about the Church's most controversial holy relic. But just as he begins to understand the truth about his friend's death, a secretive tribunal is convened to try the murder—and when Father Alex learns the identity of the accused, he is devastated. Now he must navigate the ancient and perilous legal system of the Catholic Church, which offers no presumption of innocence, no jury, and no right to face one's accuser. As evidence vanishes and witnesses refuse to testify, Father Alex realizes the system is controlled by someone with vested stakes in the exhibit—someone he must outwit to survive.
July 1977. Jack Reacher is almost seventeen, and he stops in New York City on the way to visit his brother at West Point. The summer heat is suffocating, the city is bankrupt, and the mad gunman known as Son of Sam is still on the loose. Reacher meets a woman with a problem, and agrees to help her... but then the power grid fails and the lights go out, plunging the lawless city into chaos. What does a visiting teenager do in the dark? If that visiting teenager is Jack Reacher, the answer is plenty.
The Dressmaker's Doll: A Short Story
Previously published in the print anthologies
Miss Marple's Final Cases
and
Double Sin and Other Stories
Alicia Coombe manages her very smart dressmaking business with the help of her young assistant, Sybil. One day, a doll appears in the shop—a floppy, long-legged doll that sits itself on the best sofa. But where did it come from, and why does it appear to watch them?
A PURR-FECT CRIME IN THE COTSWOLDS
Former London PR agent, Agatha Raisin still hasn't adjusted to village life where the only prospect for a hot evening out is a meeting of the Ladies Society. And since her overtures toward James Lacey--the retired military man next door--have failed, Agatha jumps at the chance to visit the new vet, who's single and good-looking. Although Agatha's tabby hasn't a thing wrong with him, Hodge endures having a thermometer shoved up his bum in the name of romance. Unfortunately his sacrifice is all for naught when the vet is soon found dead next to a high-strung horse.
The police call the vet's demise a freak accident, but Agatha convinces the hard-to-get James Lacey, who's also bored in the Cotswolds, that playing amateur detective might be fun. Unfortunately, just like curiosity killed the cat, Agatha's inept snooping is soon a motivation for murder...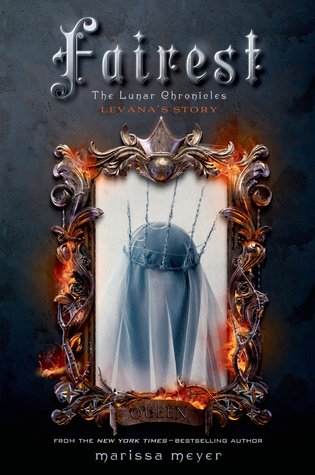 In this stunning bridge book between
Cress
and
Winter
in the bestselling Lunar Chronicles, Queen Levana's story is finally told.
Mirror, mirror on the wall,
Who is the fairest of them all?
Fans of the Lunar Chronicles know Queen Levana as a ruler who uses her "glamour" to gain power. But long before she crossed paths with Cinder, Scarlet, and Cress, Levana lived a very different story – a story that has never been told . . . until now.
Marissa Meyer spins yet another unforgettable tale about love and war, deceit and death. This extraordinary book includes full-color art and an excerpt from
Winter
, the next book in the Lunar Chronicles series.
From Jeffery Deaver--the New York Times bestselling author of the upcoming Lincoln Rhyme novel THE KILL ROOM (on sale June 4, 2013)--comes an original short story featuring Rhyme.
When a young woman is found brutally murdered in a parking garage, with a veritable mountain of potential evidence to sift through, it may be the most challenging case former NYPD detective Lincoln Rhyme has ever taken on.
From the Publisher that brought you popular short story seriesWitching Call, Hostile Hearts, Earthbound Angels, The January Morrison Files Psychic Series, Ralph's Gift, Song of Teeth, Children of Time, Chains of Darkness, Tropical Storms, Friend Zone, The Magaram Legends, The Night Sculptor Series, and now, Requiem for a Dream...
"I am going mad. Even as I speak the words are twisting away from me, writhing like living creatures to whisper horrible things." THE DARKNESS IS COMING
On the day sixteen year old Judas Stoker III loses his mother to a car accident he finds his reality splintered to the core. Sickly and isolated from a young age, he has no immediate family and no prospects for salvation. He is committed to a psychiatric hospital until a mysterious stranger arrives with news that he is to be signed over to the care of a distant but concerned relative.
A perfect opportunity for a brand new beginning for the troubled boy. Haunted by his mother's disembodied spirit, Judas is sent to live with his estranged great grandfather in upstate New York. Judas arrives at the manor with hopes of forging a bond with his eccentric relative only to realize that he has just stepped into a dark labyrinth designed to make him question his very existence.
There, he begins to discover that there is such a thing as true evil in the world.
Ushered in by the mansion's questionable servants, Blu the butler and Bast the maid, he explores the manor in search of his great grandfather who is inexplicably and continuously absent. As his time ticks by, Judas realizes that his reality and the reality of the house are blurring to create a hell that he could never have imagined.
With his mind slipping faster and faster, Judas frantically documents his decent into madness and his desperate attempt to unlock the mysteries of his great grandfather's manor before he is consumed by the fractured nightmare that has swallowed him whole.
What It Means To Survive
McArthur's World is a frozen planet which has been bled dry by mineral mining corporations for three decades. When there is nothing left but ice and snow, the last freighter lifts off carrying away every remaining human being. When it crashes in a wilderness no one has ever returned from, there are only two survivors: a miner who wants to get back to the children he has not seen for two years, and the woman who forced him to come to McArthur's World in the first place.
They think they're alone, until the shrieks in the darkness come.
Covers and synopsis taken from goodreads.