Book Haul June 2014
Everything I Never Told You
( won in giveaway )
A haunting debut novel about a mixed-race family living in 1970s Ohio and the tragedy that will either be their undoing or their salvation
Lydia is dead. But they don't know this yet . . . So begins the story of this exquisite debut novel, about a Chinese American family living in 1970s small-town Ohio. Lydia is the favorite child of Marilyn and James Lee; their middle daughter, a girl who inherited her mother's bright blue eyes and her father's jet-black hair. Her parents are determined that Lydia will fulfill the dreams they were unable to pursue—in Marilyn's case that her daughter become a doctor rather than a homemaker, in James's case that Lydia be popular at school, a girl with a busy social life and the center of every party.
When Lydia's body is found in the local lake, the delicate balancing act that has been keeping the Lee family together tumbles into chaos, forcing them to confront the long-kept secrets that have been slowly pulling them apart. James, consumed by guilt, sets out on a reckless path that may destroy his marriage. Marilyn, devastated and vengeful, is determined to find a responsible party, no matter what the cost. Lydia's older brother, Nathan, is certain that the neighborhood bad boy Jack is somehow involved. But it's the youngest of the family—Hannah—who observes far more than anyone realizes and who may be the only one who knows the truth about what happened.
A profoundly moving story of family, history, and the meaning of home, Everything I Never Told You is both a gripping page-turner and a sensitive family portrait, exploring the divisions between cultures and the rifts within a family, and uncovering the ways in which mothers and daughters, fathers and sons, and husbands and wives struggle, all their lives, to understand one another.
Expected publication: June 26th 2014 by Penguin Press HC, The
Abroad
( won in giveaway )
It all started very simply: A girl packed a suitcase full of soap and clean underwear and went to Italy. She was young--open as an empty highway. She met some people there. Love happened. And then, her ending began.
Grifonia, Italy. Home to thousands of years of secrets. Upon entering those ancient walls for her year abroad, Tabitha Deacon is entranced. And under the influence of a new, wealthy group of friends from her program, Taz quickly falls into a life of secretive, eccentric parties in abandoned cathedrals and medieval villas that are like nothing she's ever imagined. But Claire, Taz's plainspoken, unsettlingly beautiful roommate, is worried that Taz isn't really suited to her new bacchanalian lifestyle. A true friend, Claire wants to get to know Taz as she really is. Then, when both girls fall in love with the same quiet Italian with an odd, undisclosed past, everyone's morals are called into question. As the girls' boundaries disappear, Taz and Claire slide toward a terrifying end that seems almost inevitable--as if there is a force of history manipulating them from beneath the ancient city herself.
With a mesmerizing, steady hand, Crouch serves up a new novel that is part murder mystery, part modern Henry Jamesian exploration of the moral traps of modern girlhood. A page-turning, literary thriller in the best tradition, delivered with the dark wit and sure language the novelist has become known for.
Published June 17th 2014 by Knopf Canada
Munich Airport
( won in giveaway )
An American expat in London, about to enter a meeting, takes a phone call. The caller is a German policewoman. The news she has to convey is almost incomprehensible: the man's sister, Miriam, has been found dead in her Berlin flat, of starvation.
Three weeks later, the man, his elderly father, and an American consular official find themselves in an almost unbearably strange place: a fogbound Munich Airport, where Miriam's coffin is to be loaded onto a commercial jet. Greg Baxter's extraordinary novel tells the story of these three people over those three weeks of waiting for Miriam's body to be released, sifting through her possessions, and trying to work out what could have led her to her awful death.
Expected publication: July 3rd 2014 by Penguin
Ember Island
( won in giveaway )
A riveting story of secrets and scandal
1890: Orphaned as a small child, Tilly Kirkland found a loving, safe home with her grandfather in Dorset. But nineteenth-century England is an unforgiving place for a young woman with limited means and as her grandfather's health fails, it seems perfect timing that she meets Jasper Dellafore. Yet her new husband is not all he seems. Alone in the Channel Islands, Tilly finds her dream of a loving marriage is turning into a nightmare.
2012: Bestselling novelist Nina Jones is struggling with writer's block and her disappointing personal life. Nothing is quite working. After a storm damages Starwater, her house on Ember Island, she decides to stay for a while and oversee the repairs: it s a perfect excuse to leave her problems behind her on the mainland. Then Nina discovers diary pages hidden in the walls of the old home. And a mystery unravels that she is determined to solve.
Though the two women are separated by years, Starwater House will alter the course of both their lives. Nina will find that secrets never stay buried and Tilly learns that what matters most is trusting your heart.
Published April 15th 2014 by Touchstone
(first published August 20th 2013)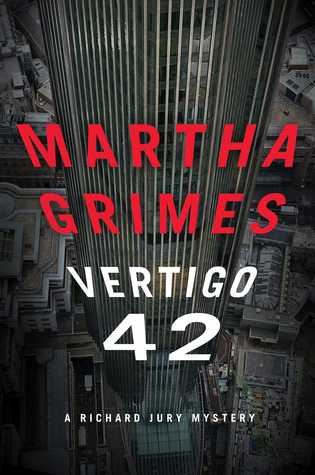 In her latest Richard Jury mystery, Martha Grimes delivers the newest addition to the bestselling series
The Washington Post
calls "literate, lyrical, funny, funky, discursive, bizarre." The inimitable Scotland Yard Superintendent returns, now with a tip of the derby to Alfred Hitchcock's
Vertigo
.
Richard Jury is meeting Tom Williamson at Vertigo 42, a bar on the forty-second floor of an office building in London's financial district. Despite inconclusive evidence, Tom is convinced his wife, Tess, was murdered seventeen years ago. The inspector in charge of the case was sure Tess's death was accidental—a direct result of vertigo—but the official police inquiry is still an open verdict and Jury agrees to re-examine the case.
Jury learns that a nine-year-old girl fell to her death five years before Tess at the same country house in Devon where Tess died. The girl had been a guest at a party Tess was giving for six children. Jury seeks out the five surviving party guests, who are now adults, hoping they can shed light on this bizarre coincidence.
Meanwhile, an elegantly dressed woman falls to her death from the tower of a cottage near the pub where Jury and his cronies are dining one night. Then the dead woman's estranged husband is killed as well. Four deaths—two in the past, two that occur on the pages of this intricate, compelling novel—keep Richard Jury and his sidekick Sergeant Wiggins running from their homes in Islington to the countryside in Devon and to London as they try to figure out if the deaths were accidental or not. And, if they are connected.
Witty, well-written, with literary references from Thomas Hardy to Yeats,
Vertigo 42
is a pitch perfect, page-turning novel from a mystery writer at the top of her game.
Published June 3rd 2014 by Scribner
(first published June 1st 2014)
The stunning new Penn Cage thriller in which a shocking murder from the 1960s finds new life - and victims - in the present.
Penn Cage is facing a son's worst nightmare - having his father stand accused of murder. Worse, each effort to defend the legendary Dr Tom Cage unearths new, shocking secrets, leaving Penn to question whether he ever really knew his father at all.
At issue is the murder of Viola Turner, once Tom Cage's nurse, before being transferred to Chicago, now back in Natchez and a corpse in her sister's house.
What was the relationship between Tom, Viola, and the 'Double Eagle Club', an ultra-violent group of hardened men who considered themselves smarter, tougher, and more elite than their peers in the FBI-infiltrated Ku Klux Klan?
In Natchez, where the past is never truly 'past', long-buried secrets turn lethal when exposed to the light of day. For Penn Cage, the cost of solving this case will be no exception.
Published April 29th 2014 by William Morrow
(first published February 20th 2014)
The Devil Amongst the Lawyers (Ballad #8)
In 1934 all the national publications sent their star reporters to remote Virginia to cover the trial of Erma Morton: a beautiful 21-year-old year old mountain girl with a teaching degree, accused of murdering her father--a drunken tyrant of a man.
Eager for a new cause celebre to capture the public's imagination, they were counting on reports of horse-drawn buggies, run-down shacks, children in thread-bare clothes--all of the stereotypes of mountain life. But among them is Carl Jennings, an 18-year-old mountain boy on his first job. An eager, honest journalist, he reports accurately--describing telephones, electricity, gas stations, and coal company executives.
So when their reports conflict, Carl is condemned, while the seasoned journalists perpetuate the myths of country life--and Erma Morton's guilt or innocence is literally sold to the highest bidder--a wronged woman on trial sells papers. Soon, it is not the murder that is of interest: but the vultures attracted by the deaths. In the midst of all this, Carl continues to search for the truth, relying on his younger cousin, Nora--gifted with the "sight"--for help.
A stunning return to the lands, ballads and characters upon which she made her name, Devil Amongst the Lawyers is a testament to Sharyn McCrumb's lyrical and poetic writing.
Published June 22nd 2010 by Thomas Dunne Books
(first published June 15th 2010)
In this clever and quirky follow-up to
The Gates
and
The Infernals
, Samuel Johnson's life seems to have finally settled down—after all, he's still got the company of his faithful dachshund, Boswell, and his bumbling demon friend Nurd; he has foiled the dreaded forces of darkness not once but twice; and, he's now dating the lovely Lucy Highmore.
But things in the little English town of Biddlecombe rarely run smoothly for long. Shadows are gathering in the skies; a black heart of pure evil is bubbling with revenge; and, it rather looks as if the Multiverse is about to come to an end, starting with Biddlecombe. When a new toy shop's opening goes terrifyingly awry, Samuel must gather a ragtag band of dwarfs, policemen, and a very polite monster to face down the greatest threat the Multiverse has ever known, not to mention assorted vampires, a girl with an unnatural fondness for spiders, and highly flammable unfriendly elves.
The latest installment of John Connolly's wholly original and creepily imaginative tales of Samuel Johnson,
The Creeps
, is humorous horror for anyone who enjoys fiction at its best.
Published October 22nd 2013 by Atria/Emily Bestler Books
It's been one year since all the adults disappeared. Gone.
Despite the hunger and the lies, even despite the plague, the kids of Perdido Beach are determined to survive. Creeping into the tenuous new world they've built, though, is perhaps the worst incarnation yet of the enemy known as the Darkness: fear.
Within the FAYZ, life breaks down while the Darkness takes over, literally—turning the dome-world of the FAYZ entirely black. In darkness, the worst fears of all emerge, and the cruelest of intentions are carried out. But even in their darkest moments, the inhabitants of the FAYZ maintain a will to survive and a desire to take care of the others in their ravaged band that endures, no matter what the cost.
Fear, Michael Grant's fifth book in the bestselling dystopian Gone series, will thrill readers . . . even as it terrifies them.
Published April 3rd 2012 by Katherine Tegen Books
It's been over a year since all the adults disappeared. Gone.
In the time since every person over the age of fourteen disappeared from the town of Perdido Beach, California, countless battles have been fought: battles against hunger and lies and plague, and epic battles of good against evil.
Light
, Michael Grant's sixth and final book in the
New York Times
bestselling Gone series creates a masterful, arresting conclusion to life in the FAYZ.
And now, the gaiaphage has been reborn as Diana's malicious mutant daughter, Gaia. Gaia is endlessly hungry for destruction. She yearns to conquer her nemesis, Little Pete, and then bend the entire world to her warped will. As long-standing enemies become allies, secrets are revealed and unexpected sacrifices are made. Will their attempts to save themselves and one another matter in the end, or will the kids of Perdido Beach perish in this final power struggle?
Published April 2nd 2013 by Katherine Tegen Books
Good Neighbors
A compulsively readable debut crime novel inspired by the legendary real-life murder of Kitty Genovese.
At 4:00 A.M. on March 13, 1964, a young woman returning home from her shift at a local bar is attacked in the courtyard of her Queens apartment building. Her neighbors hear her cries; no one calls for help.
Unfolding over the course of two hours,
Good Neighbors
is the story of the woman's last night. It is also the story of her neighbors, the bystanders who kept to themselves: the anxious Vietnam draftee; the former soldier planning suicide; the woman who thinks she's killed a child and her husband, who will risk everything for her. Revealing a fascinating cross-section of American society in expertly interlocking plotlines,
Good Neighbors
calls to mind the Oscar-winning movie
Crash
, and its suspense and profound sense of urban menace rank it with Hitchcock's
Rear Window
and the gritty crime novels of Dennis Lehane, Richard Price, and James Ellroy.
Published May 31st 2011 by Penguin Books
(first published 2009)
Heathen
Chris Ward is killed in a car accident with a pretty girl. His wife never suspected that Chris was having an affair and her feeling of betrayal makes her want to find out how long it had been going on. But her investigations lead her into danger as she is stalked by the evil Sons of Midnight.
Published by Little Brown and Company
(first published September 1st 1993)
Stolen Angels
Catherine and Phillip believe that the suicides of three men, the desecrations of a number of children's graves, and the suspected child abuse of a number of school pupils are connected in some way. It soon becomes apparent that the specter of child abuse is merely the tip of a terrifying iceberg.
Published February 1st 1997 by Little, Brown Book Group
(first published 1996)
It's said that if the ravens ever leave the Tower of London, then the Tower will crumble and the kingdom will fall. Resurrected sorcerer Matthew Swift is about to discover that this isn't so far from the truth...
One by one, the protective magical wards that guard the city are falling. This is not good news. This array of supernatural defenses - a mix of international tourist attractions and forgotten urban legends - formed a formidable shield that protects the city of London from threats that are known to no one. But what could be so dangerous as to threaten an entire city?
Matthew Swift is about to find out. And if he's lucky, he might just live long enough to do something about it...
Published February 1st 2011 by Orbit
(first published 2010)
Eyes Wide Open
Jay Erlich's nephew has been found at the bottom of a cliff at Morrow Bay—a tragic suicide, it appears, until secrets from the past rear up again.
Years ago, Jay's older brother, Charlie, a wayward child of the sixties, fell under the sway of a charismatic but deeply disturbed cult leader in California—a mesmerizing human monster who set a nightmare of violence into motion. Charlie moved on and raised a family, but the demons that nearly destroyed him never completely disappeared.
Heading west to help his grieving brother, Jay finds himself being pulled back into Charlie's dark history. In a story of two brothers—one successful, the other outcast and troubled—Jay must put his family and life on the line to uncover the truth behind his brother's son's death, a dark and dangerous quest that threatens to bring up the secrets of the past once again . . . and plunge him over the edge into the depths of evil.
Published May 29th 2012 by Harper
(first published January 1st 2011)
Carrion Comfort
THE PAST... Caught behind the lines of Hitler's Final Solution, Saul Laski is one of the multitudes destined to die in the notorious Chelmno extermination camp. Until he rises to meet his fate and finds himself face to face with an evil far older, and far greater, than the Nazi's themselves…
THE PRESENT... Compelled by the encounter to survive at all costs, so begins a journey that for Saul will span decades and cross continents, plunging into the darkest corners of 20th century history to reveal a secret society of beings who may often exist behind the world's most horrible and violent events. Killing from a distance, and by darkly manipulative proxy, they are people with the psychic ability to 'use' humans: read their minds, subjugate them to their wills, experience through their senses, feed off their emotions, force them to acts of unspeakable aggression. Each year, three of the most powerful of this hidden order meet to discuss their ongoing campaign of induced bloodshed and deliberate destruction. But this reunion, something will go terribly wrong. Saul's quest is about to reach its elusive object, drawing hunter and hunted alike into a struggle that will plumb the depths of mankind's attraction to violence, and determine the future of the world itself…
Published November 24th 2009 by St. Martin's Griffin
(first published 1989)